---
Network Authentication Window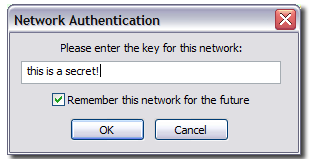 Network Key
The key or pass phrase used by the wireless network. Note that WEP keys must be either 5 or 13 ASCII characters or 10 or 26 hex characters. There are no implicit restrictions on the length of WPA/WPA2 pass phrases but they are usually greater than 8 characters.
Remember this network for the future
If this check box is enabled, the network key and other network information is automatically saved to the Network Profiles. When the network authentication is used a part of the process of Remembering a network, this check box is disabled as its meaning is implicit.
---